PJ MUDD T-SHIRT
SMALL DESIGN on FRONT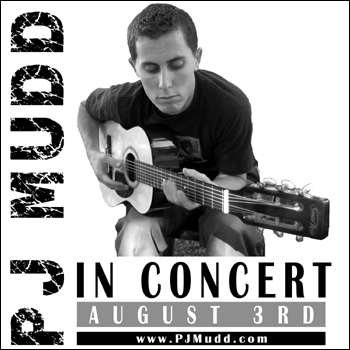 LARGE DESIGN on BACK
PJ Mudd Concert T-Shirt
Another way to remember PJ and his love of music is with a
PJ Mudd Concert T-Shirt. These items are made available via a partnership with CafePress and are manufactured using high-quality materials and state-of-the-art printing processes.

PLEASE NOTE: These items are NOT sold for profit. Prices listed are the base-price charged by CafePress with NO MARKUP. Our intention is not to make money off of these items, but rather to be another way of Remembering PJ.




FRONT DESIGN: Features a color photograph of PJ's favorite guitar. "Music Is Life" is a phrase (and a philosophy) that PJ often invoked. The design also includes a guitar pick -- something that PJ always had with him. This Front Design is printed in a smaller size than the Back image and is located in what would be the pocket area of the T-shirt (even though these shirts do not have pockets).

BACK DESIGN: Features a black/white photograph of PJ playing the guitar. The intent was to make the shirt resemble a typical concert T-shirt. The date of the concert -- August 3rd -- is PJ's birthday.


---
What is CafePress?
CafePress is part of the growing on-demand-printing industry. Clients are able to create storefronts and upload designs. Items are not produced until somebody orders them. CafePress is able to create the requested items with a quick turnaround and they handle all aspects of order fulfillment including e-commerce, packaging, and shipping.


Remembering PJ Mudd Gear Store